I discovered a damp patch in our recently purchased and decorated house.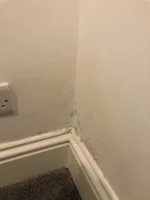 This is a room at the back of the house and on the other side of the wall is this: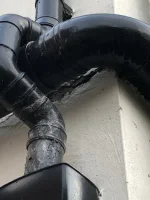 The deep looking gash behind the pipe does look like the obvious culprit and I thought I should just try to fill it with a concrete/sand mix.
Before that though I just went up a ladder to see if I could get high enough to do it myself, but found that the crack/gash isn't actually as deep as it looks from below: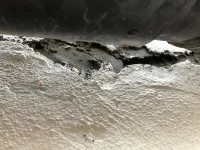 Even the darkest patch in this picture isn't actually that deep. Nevertheless, can I just ask whether people think that this is almost certainly the cause of the damp and whether the plan to patch it up with quick drying cement/sand mix is a good one?
Thanks!