Right finally got round to flogging my van, I'm offering it on here first as it is idealy racked out for a plasterer (as you can see) and I cant be @rsed removing it all, but I'll have to if it goes on ebay.
Its an 03 Sprinter with only 83 000 miles on the clock.
Its a semi auto, it changes gear for you but you can do it yourself if you want (which comes in handy on the odd ocasion) The actuator as its called went weird lest year and wouldnt select gear properly so I had it replaced by proper ex Merc mechanics see here
http://www.m-star.co.uk/
that cost £400 quid.
Twin side load doors, power steering, ABS, ASR (anti wheel spin) ESP apparently it weighs the load and distribution in the back and wont let you go round corners too fast. Ive never tested it cos I'm a scardy cat custard.
Its alarmed and imobilised, and has a parrot hands free kit (it links up when you turn the ignition on so you dont even need to take your phone out of your pocket) That was £130 quid.
Its mechanically sound, bodywork has the odd rust spot I have treated and touched some up they are all tiny ones though its in VERY good nic for the year.
New battery and heater plugs last year.
All doors shut and lock properly, all electrics work, and the edge of the drivers seat aint even ripped all in all its a great van.
Problems - Dint in side door its big ish but not deep, a prang on back above bumper but again next too nowt, the rubber at the bottom of the drivers window keeps coming out and I'm too lazy to push it back in
Only 2 seats but I have built this centre console thing dead profesionaly in plywood for putting stuff on like note pad brews and other shlt
No service history I have had it serviced for the last 2 and a half years I have owned it.
Previous to me It was a London evening standard delivery van, so we presume it used to go out for a couple of hours a day dropping off papers which explains the really low miles on the clock. I have seen sprinters for sale with over 200 000 on the clock, same age same price, and we have to presume the lease company insisted it was serviced too but thats just a guess.
Sign written but can be removed with a hair dryer or if you dont live near Manchester I can add you to my website and give you your own page or something at a price
What I do know is last year it went through its MO
T with NOTHING needing doing at all.
Ive just realised I dont know when the MOT is up or where it is (moved house entire life is upside down)
For an extra £100 I'll put a 12 month MOT on it................... does that sound fair?
If you want more pics I can do them tommorow, I forgot to do the dints so will do that
£3500 is apparently a decent price I'm only selling cos I want a Brabus vito ;D
Some pics mainly of the racking out it has two rear shelves top one for ladders etc middle one for tools buckets and plaster on the floor, and plasterboard section.
Drivers side load door has access to hop ups small ladders and dust sheet compartment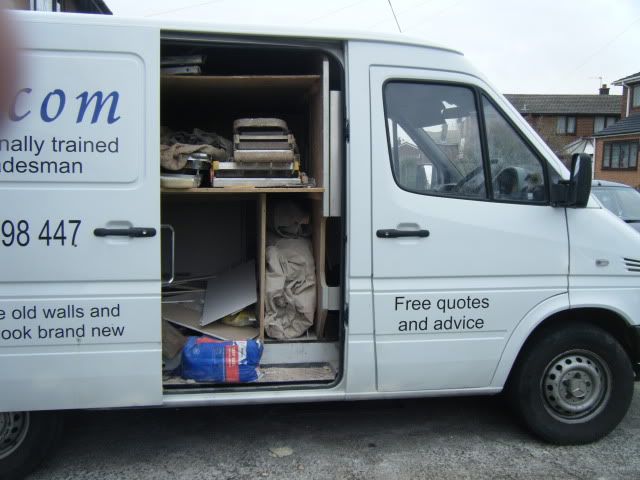 It aint super clean but I have given it a wipe
Look the front of a van
Holly low milageage batman
Factory fitted Brabus centre console and thats deffinately not pipe insulation armrests honest and cut out bulkhead for kitchen worktops to fit in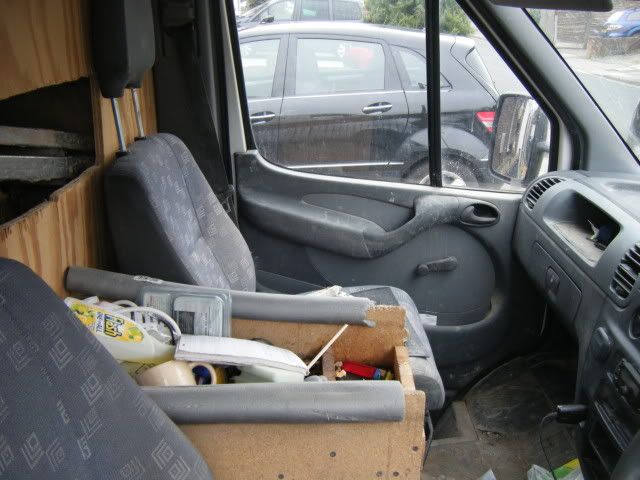 The other side load door is sectioned off with shelves but I cant find the photo and its dark I'll do that tommorow