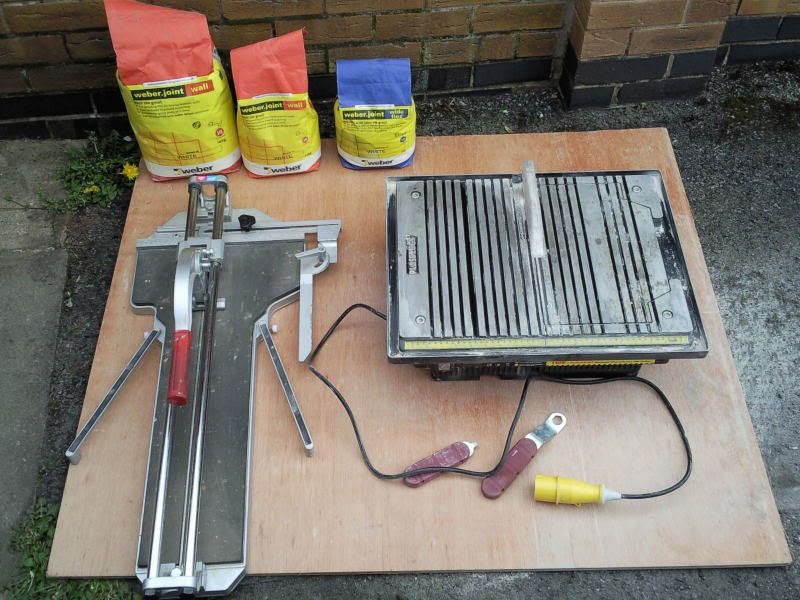 pretty much everything you need apart from a hammer, a spirit level and tape measure as i still need them for my plastering, but everything else in the picture is for sale, preferably as a job lot. offers welcome, based in Derby.
im sure you can make out what everyhting is, theres 5 trowels... 3mm 6mm 10mm 20mm(round) 14mm, various scorers snappers nippers/parrot nippers, profile shape finder mallet hacksaw junior hacksaw tile saws china marker little laser line level washboy with 3 sponges, 3 small and 1 large grout floats, few little grout spreaders, 7 diamond drill bits, most unused or been used a couple of times. sizes 6.5mm 8mm 10mm 12mm 17mm plus the newer ones that comes with suction system to hold the colling guide in place and theyre both unused 6.5mm and 8mm. 60cm steel rule,square, mitre box tile trim mitre trimmer silicone gun, silicone smoothing tool (not pictured) grout rakes (got 2 more that arent pictured) loads of 2mm spacers, box of 3mm sopacers and 2 boxes of the plasplugs 3D red spacers,. blah blah blah if you unsure of what something is in the picture jsut ask.
master tiler is 110v so perfect for working on site, will need a transformer. and the guide rail is also included with the sale but not pictured.
tile cutter is the QEP Vitrex Big Clinker 600mm cutter.
2 bags of white wall grout and a small back of white floor grout which i'll just be chucking in for free or they'll be into the skip.