New to all of this, triggered into action by a bit of render falling off in the recent storms. But we actually have (a small amount of) water leaking into our porch from the external wall (probably from the ridge halfway up), so it's probably worth doing something before it gets worse.
a) I'm not 100% on what render we have, have been told it might be painted Tyrolean over a dry dash (see pics). We still have part of the piece the fell off, and it is a thinnish layer of white with a few stones attached, so whether they are part of what is still attached to the wall or a 2nd layer of something else I don't know.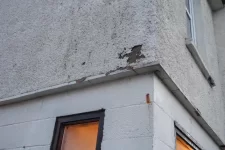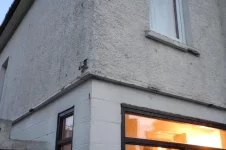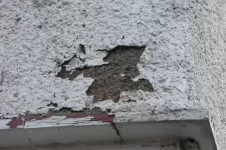 b) It's not generally in a great condition anyway, and was down before the cavity wall insulation was fitted, and I don't think that was within the last few years (we've only owned the house 12 months). So even if we could patch it up, would it be a false economy?
c) If it's a complete re-render, what are the options? Replace with the same, something different, k-rend, monocouche, mozzarella, no idea. Not looking for anything impressive, just something clean that will stay looking good and not weathered, or can be easily repainted.
And if it's about 60m2 including windows as a rough estimate, what could the costs be?