Hi
This bay window in a Victorian built terraced house has been having a few damp issues.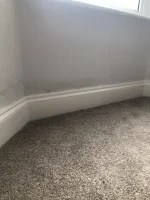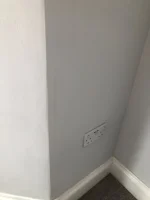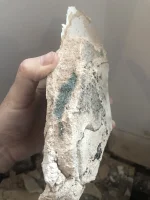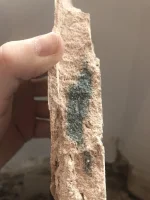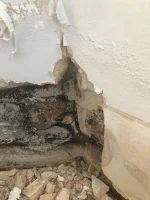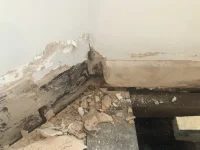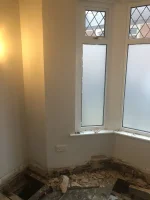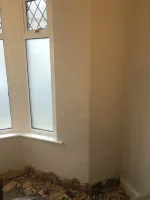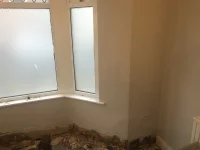 After investigating, removing the skirtings showed multi finish skim going right down to the floor, so I've started hacking that back given that it probably was wicking moisture up (there was green in the centre of some of the plaster around the damp areas - what is that?). It is also evident that there are sections plastered in original lime (the lovely black ash found often across South Wales), as well as indications that it has been tanked in cement at some stage, up to the usual 1.5 meters I would presume.
The tanking is a bit of a strange one, as I can't see any evidence of a liquid DPM having ever been drilled into the bricks either side. There is a gutter downpipe outside that is just dumping on the bottom of the wall of the property, so that is probably at least on source of moisture that is getting sorted. Looking under the floorboards, I've cleared out the air vent that was full of dirt. There is also what appears to be a bitumen DPM in there somewhere, but this is a few courses of brick below the external ground level, which doesn't make sense to me except for the fact it somewhat protects the floor timbers sat on those bricks, but giving limited protection to the rest of the wall (plus no cavity). Would this be expected in properties built at the turn of 1900, or some kind of retro fitting?
I'm thinking the best course of action would be to remove the cement tanking (at least the level of the window sill) - hack this back to brick and then render it properly in lime in keeping with the original build and retaining breath-ability in key areas below the window. With the exception of about a foot of angle beading that is showing through with rust which I may cut our or treat, I'm hoping to keep costs and effort down to retain the rest (including the pink skim the rest of the way up). Is patching between lime based plaster and pink skim like this possible and going to work, or will it likely lead to more problems?
Thanks