Hi - I'm new to plastering although have done a bit of lime rendering. I'm renovating an old fireplace in our home (ripped out a 60s fireplace and opened up inglenook; going to fit an oak beam (with suitable heat protection) and wood burner. I'm going to render most of the brickwork (some old soft bricks, some new) with lime-based Fibrechalk from Anglia Lime
http://www.anglialime.com/products/wet-mix-plasters-angliamix-mortars-renders/fibrechalk
. Most of the job is under control but I'm trying to work out what to do to repair the cement mortar that was slapped around the sides of the fireplace back in the 60s. I'd like to patch and skim over it with Fibrechalk but I'm not sure whether it will stick to the old emulsion paint that's been applied to most of it.
See photo. I'm talking about the yellow painted bit on the left. This used to be the inside of a cupboard that was fitted alongside the chimney breast.
Questions:-
- Should I scratch it first (hard work)?
- Would a coat of PVA be enough to bond the render to the old wall?
- Any other tips/ideas?
Many thanks in anticipation!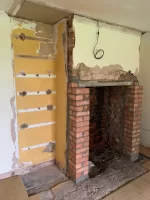 Jez