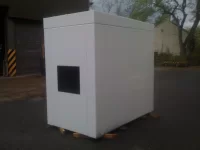 Hi
I have a problem.. I work for a company in Leeds that supplies and installs steel fabricated security enclosures for cash machines.. We've been asked to install one such enclosure (just like the picture) at a village in North Wales but the local authority have stipulated that it have a rendered finish.. So, my first question is..
Is it possible to apply a rendered finish to a powder coated steel box?
I presume it's not possible to apply directly, but is there any kind of board that can be mechanically fixed to the steel room that can then take multiple coats of render?
I've also seen products like the pre-rendered insulated panels from the likes of Kingspan but these seem more suited to larger areas.
In the past we've applied a brick slip to this type of enclosure but i guess render is much more likely to crack etc..
Any opinions are welcome.. fyi - we're also looking for someone local to North Wales to do the works for us
Thanks
Lee