Hi guys,
Need some advice on the best way to finish a small stud job this week.
I have attached a basic picture of the outline of existing room, stud etc.
Essentially, long hallway leads into a room. Customer wants a stud put up with doorway either side to create office on the right and a spare room with alcove on the left.
Existing room obviously has a door lining and door between room and hallway, and im looking at taking this out and getting my plasterer to flush this over inline with both the existing hallway walls and through into the new studs. (There will be around 6 inches of new stud on each side before the doors are in place, as opposed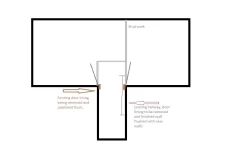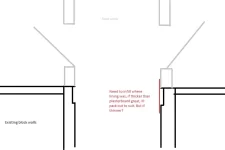 to putting the new doorways tight up against the walls.
My friend is plastering but is away at the moment, its a simple job so didnt really need him to look before as im happy boarding it all and working out sizes for him to estimate from.
My main question however relating to the possible difference in thickness between surfaces when lining is taken out as when i remove the current hall/room door lining im not sure what ill find. the wall that its sat in is a load bearing wall, that being said from memory I dont think theres little block work nibs on each side.
So all being well if i remove the lining there will be a small step between the plastered walls and the block work it sat in. This may be too thin for me to sail my plasterboard through and dot and dab this onto the wall tight up against where the lining would have been plastered up to.
I want to make this a hassle free job for my plaster, and also cant really position my studs until I work back from the finished thickness of the existing hallway walls.
Am I waffling on now?
Anyone getting what im on about? lol
Some help would be great!